Washington West African Center hosts fourth annual Sukuri Ndogu
EVERETT, Wash., April 9, 2023—The Washington West African Center (WAWAC) held its fourth annual Sukuri Ndogu and Iftar Ramadan event at the Bilal Ibn Rabah Islamic Center on Saturday, April 8, distributing groceries and hundreds and meals to West Africans living in King and Snohomish counties.
Sukuri Ndogu is a Wolof word that roughly translates to "food to break fast." For the past four years, WAWAC has held this West African tradition of supplying groceries to elders in preparation for or during the observation of Ramadan.
As community members began to pull up, volunteers issued bags of groceries. Meals of charbroiled chicken with rice and salad or meat pies were served with churra gerte—a traditional Gambian sweet porridge made with boiled peanuts and rice—as dessert.
"It is great to see the community coming out during which we serve them with hot meals, different type of fresh produce, cultural appropriate groceries," said Pa Ousman Joof, Founder and Executive Director of WAWAC.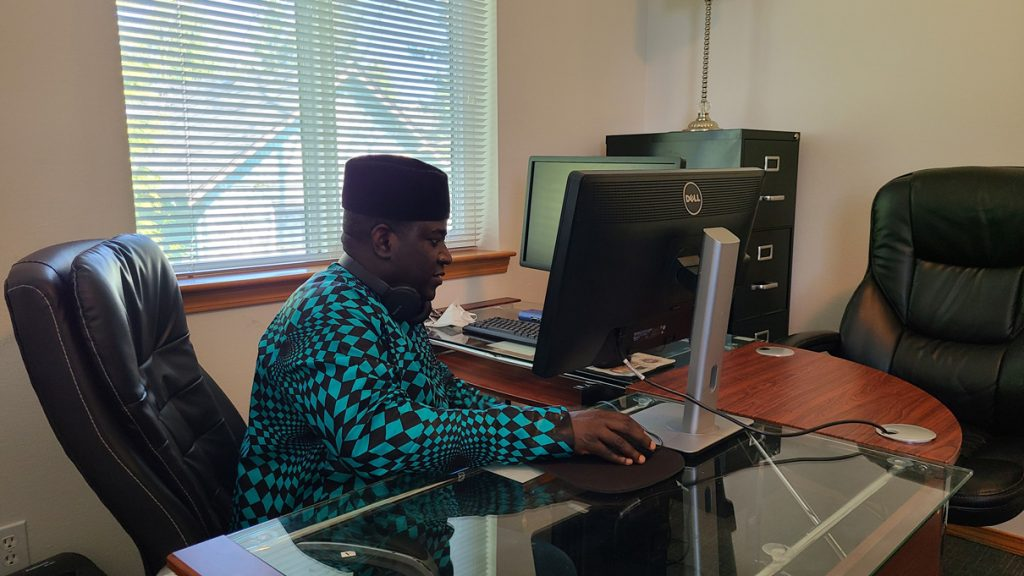 The meals were provided by Bantaba African Restaurant located at 19417 36th Ave W in Lynnwood just across the street from the Lynnwood Event Center, and Dijah's Kitchen also located in Lynnwood at 16108 Ash Way, Suite 103.
While it is important for the elders to be well-supplied for Ramadan, this event also serves significant cultural purposes, helping elders in the community stay connected with their culture and each other.
WAWAC's first Sukuri Ndogu began in 2020 when they served over 50 seniors with funding from the 2020 census. Now, three years later, the event grew to provide over 500 meals and distribute health related materials and supplies.
Since our first meeting with Joof in 2021, WAWAC has grown to provide: an after-school program for at least 25 youth several days a week, summer camp opportunities, a monthly support group for seniors called Grandma's Hangout, rental and bill payment assistance, connection with immigration help, and translation services.
"We are very busy; and in fact, we are looking forward to moving to a bigger office space in Lynnwood," Joof shared with the Lynnwood Times.
Through various partnerships with organizations like the Group Health Foundation, Verdant Health, Washington State Department of Commerce, and the Department of Health, WAWAC also utilizes their Sukuri Ndogu events to educate the community on sensitive topics such as domestic violence.
WAWAC will be in Portland, Oregon next weekend providing meals to the West African community.
"I told you, we are growing," Joof said when sharing upcoming activities. "We have stuff going on in King County and of course in Clark County. We will be there in Vancouver, Washington next weekend too!"
Sainey M.K. Marenah, a Gambian journalist, lent a hand at the event as a volunteer. Expressing his excitement, Marenah said,"This is a moment of holiness as people come together peacefully to be kind to one another as our religion tells us to be. This [Ramadan] is a month of forgiveness, a month of blessing, and we are grateful to be here to volunteer for our community."
The mission of Washington West African Center is to connect West Africans in Washington with local resources, bridging the gap within the wider community and culturally socialize West African children in a value driven way. It's Executive Director Pa Ousman Joof aims to enable West Africans to discover their full potential and facilitate communication through the use of modern information technologies and works of art for the discovery and realization of their talents.
The organization primarily operates in and around Snohomish, King, and Pierce counties, which are home to over 20,000 West Africans in the state. WAWAC opened five years ago and has an office in Lynnwood at 16911 Highway 99, Suite 102.
To learn more about WAWAC, call 253-235-2132, or email info@wawac.org.
RELATED ARTICLES: