Follow the Money: Snohomish County launches COVID-19 Recovery Dashboard
Snohomish County, Wash., June 28, 2023 – Executive Dave Somers today publicly launched the County's COVID-19 Recovery Dashboard, which allows users to learn more about the County's pandemic recovery programming, including investment areas, impacts, and the geography and demographics of those the County serves. The Recovery Dashboard was initially built in partnership with Microsoft and has since been expanded and maintained by Snohomish County.
"We're using federal pandemic recovery dollars to make generational investments in needed resources for communities across our county, from affordable and accessible behavioral health services, to high-quality child care, to jobs programs that support workers and employers," said Executive Somers. "We're committed to accessibility and transparency so residents, businesses, and workers can understand what programs we are launching and the impacts they are having. This COVID-19 Recovery Dashboard is vital for increasing public trust and engagement, and I encourage residents across the county to explore this tool."
While the vast majority of programs included are funded by the County's federal American Rescue Plan Act (ARPA) allocation, two additional programs are included that were funded by other federal sources: Rent & Utility Assistance and the Relief, Recovery, & Resiliency Grants.
There are two components of the dashboard:
The home page where users can learn about budget, expenditures, and notable data including overall outcomes of ARPA investment areas.
Project detail pages where users can learn more about a specific ARPA program, including impacts, demographics, and geographic distribution.
Anyone interested can explore the dashboard here.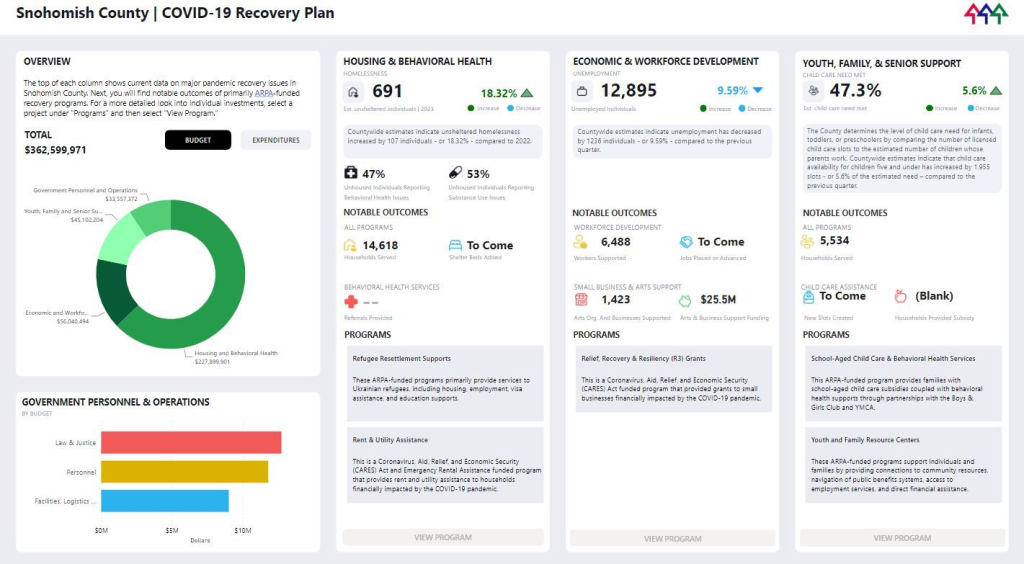 To navigate to a detail page, select a project under "Programs" and then click "View Program." To navigate back to the home page, click the back button in the top left corner of a detail page.
The Recovery Dashboard is updated through March 31, 2023, and it does not currently represent the entirety of ARPA programming. This dashboard will be updated quarterly, and a maximum of five new projects will be added each quarter.
"We are making smart, strategic investments with our federal dollars to help ensure an equitable, sustainable, and widespread recovery across Snohomish County," said Kara Main-Hester, Chief Recovery and Resilience Officer, Snohomish County. "This dashboard will help residents gain a better understanding of how recovery programs impact themselves, their families, and our entire Snohomish County community."
"In Snohomish County, we are committed to developing modern, innovative, and accessible ways for community members to learn more about and interact with their government. The COVID-19 Recovery Dashboard is an exciting project that fits squarely within this vision. We look forward to continually expanding this dashboard and launching new digital tools to increase engagement between the County and communities we serve," said Viggo Forde, Chief Information Officer, Snohomish County.
The COVID-19 Recovery Dashboard is an innovative transparency tool that increases public understanding of the uses and impacts of federal funding. Rather than simply conveying allocations and expenditures, the Recovery Dashboard allows the user to understand how recovery programs interact to create countywide outcomes and impacts to key community issues.
Anyone with questions about the Recovery Dashboard and the programs it features should reach out to the Office of Recovery & Resilience (ORR) at SnohomishCounty.Recovers@snoco.org.
Executive Somers established ORR to guide the County's recovery work by ensuring federal pandemic relief is administered quickly, effectively, and equitably. Information on the County's recovery work can be found at www.snohomishcountywa.gov/recovery.
---
SOURCE: Snohomish County Government press release