How the County is spending $160 million in ARPA monies
SNOHOMISH COUNTY, Wash., August 28, 2022—Snohomish County Executive Dave Somers released the Community Pandemic Recovery Priorities Report, that details the outcomes of the four-month pandemic recovery engagement efforts the County conducted throughout this spring and summer.
"In Snohomish County, we follow the basic principle that the pandemic impacted everyone, which means that our recovery needs to involve everyone as well," said Executive Somers. "Across the county, community members were ready and willing to provide creative, forward-looking ideas for how we can recover and build post-pandemic resilience. Their feedback will guide how we use our recovery allocation as we work to make significant, lasting positive change for communities most impacted by the pandemic."
The pandemic recovery engagement effort featured the following outreach:
Nine facilitated recovery discussions with eight groups
Meetings with leadership in 17 cities/towns across the county
Five Recovery Roadshows, with one in each County Council district
373 total attendees at the Roadshows, not including elected officials, County and community partners, or kids
25 County agencies and community-based organizations participated in resource tables at the Roadshows
In the summer of 2021, Snohomish County Executive Dave Somers and County Councilmembers established the Office of Recovery and Resilience (ORR). The office's mission is to guide the County in its efforts to recover from the pandemic and is funded to be operational through 2023. The County received $80 million in American Rescue Plan Act (ARPA) funds in May of 2021 and another $80 million this year.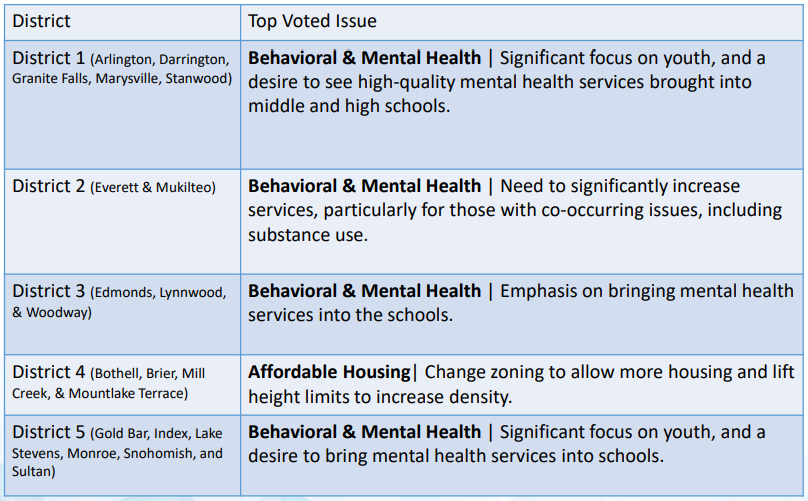 According to the National League of Cities (NLC), ARPA funds must be obligated (or contracted) by December 31, 2024, and any unexpended funds won't be subject to recapture until the end of December 2026.
As a result of the hundreds of conversations and engagements undertaken over the last four months, the Office of Recovery & Resilience (ORR) has identified the following overall community pandemic recovery priorities that it compiled in a Priorities Report:
Behavioral & Mental Health Services
Growth & Affordability
Shelter & Homelessness
Child Care & Early Childhood Education
Workforce Development
Focus on Youth
The Priorities Report includes a summary of overall priorities and potential solutions to key issues, as well as more comprehensive notes on the facilitated recovery discussions, mayor meetings, and Roadshows. Executive Somers and the County will use this community feedback to guide all remaining ARPA investments, including the spending plan for the second $80 million ARPA allocation. The spending plan will be announced as part of the Executive's 2023 proposed budget.
ARPA Investments To-Date (Tranche 1 / May 2021 monies)
Below is a chart of the respective allocation of fund buckets, or what the county calls "tranches," for first $80 million of ARPA monies that it received in May of 2021. For example, it was confirmed during Wednesday's presentation to the council by Chief Recovery and Resilience Officer for Snohomish County, Dr. Kara Main-Hester, that the recent purchase by the county of two hotels to significantly boost bridge housing with access to behavioral health services fell within the orange tranche – Housing and Behavioral Health.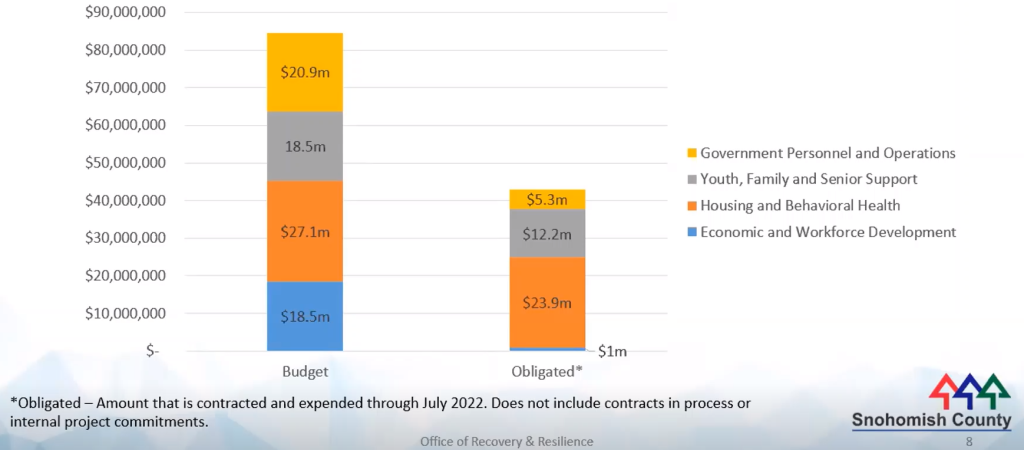 Project Spotlights: Where has the Tranche 1 monies been spent?
Everett & Edmonds Hotel Purchases
Councilman Sam Low (District 5) shared during Dr. Main-Hester's presentation that he would like to see efforts focus to prioritize bridge housing for homeless youth and domestic violence victims.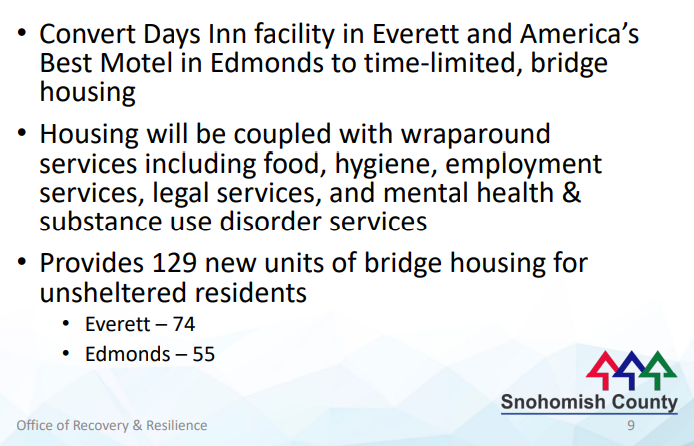 Shelter & Behavioral Health Partnership Program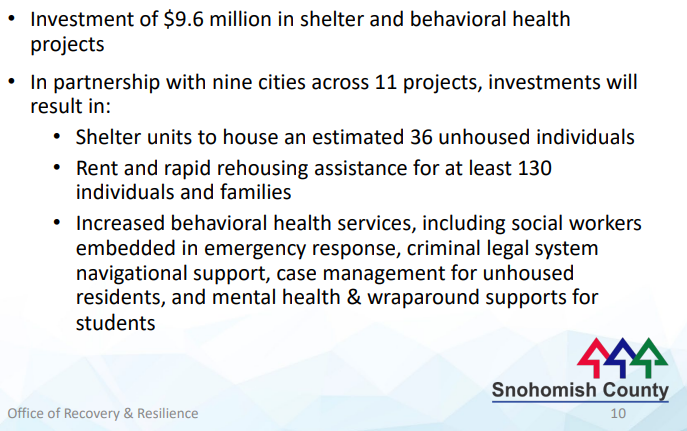 Increasing Broadband Access
Currently, the county is investing $5 million dollars of funding for broadband access.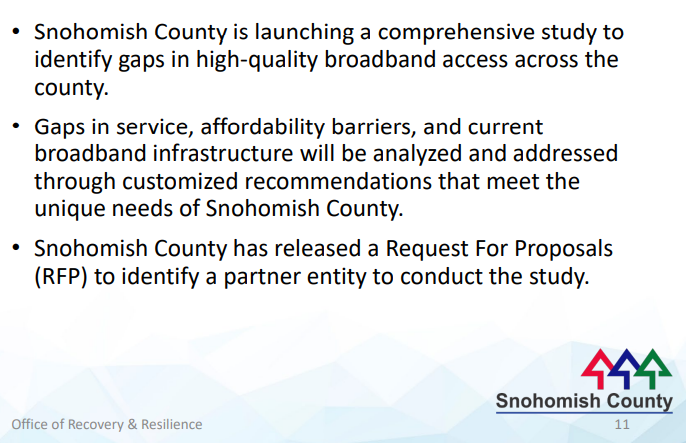 Child Care
Dr. Main-Hester's addressed Councilman Jared Mead's (District 4) risks regarding future long-term funding gaps to childcare. Dr. Main-Hester shared that due to inflation, she hopes the state legislature would increase its reimbursement rates as ARPA funding is a one-time short-term fix. Mead would like more of a financial commitment of funds to help youth with the social anxiety of interacting with each other and adults. Councilman Nate Nehring (District 1) reiterated Councilman Mead's sentiments.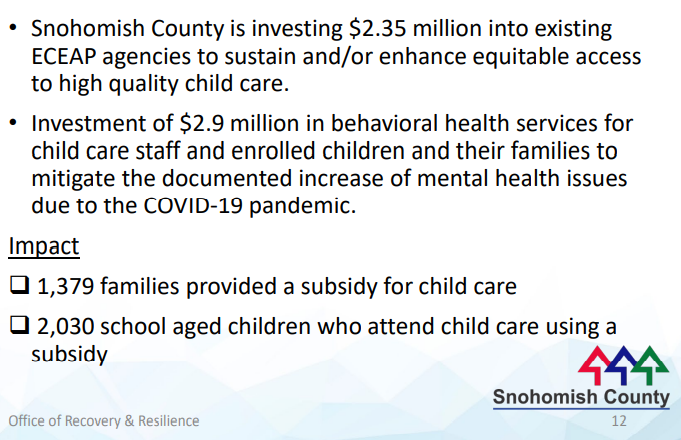 Support for Basic Needs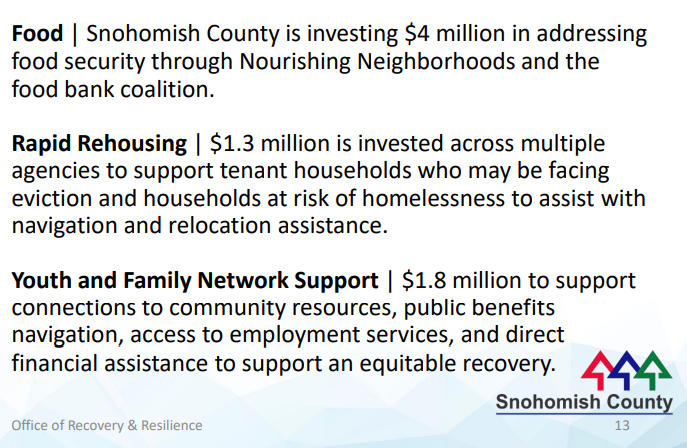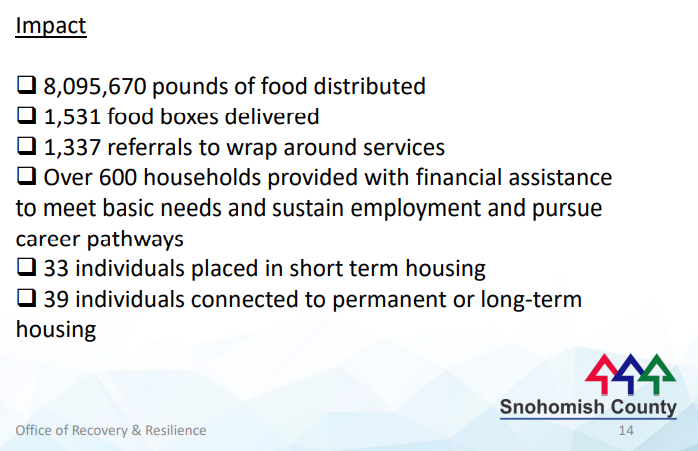 Dr. Main-Hester shared that the public should expect policies and funding proposals for the remaining ARPA monies this fall in order for it to be accessible as early as January 1, 2023.