Family-owned Mukilteo restaurant closes after 27 years of business
MUKILTEO, Wash., July 17, 2023—Kostas Mediterranean Cuisine, a beloved family-owned restaurant in Mukilteo closed its doors the evening of July 9. 
"We would like to thank the community, our customers, employees and everyone else that supported us through the years. We met a lot of people and made a lot of friends and now have an extended family that we will cherish forever," Kostas shared in a public statement.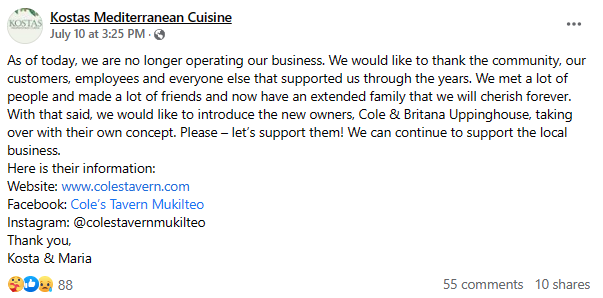 Kosta and Maria Christopoulos, the owners of the family-run restaurant, endeared themselves to countless locals over the years while also fostering a sense of extended family within their establishment.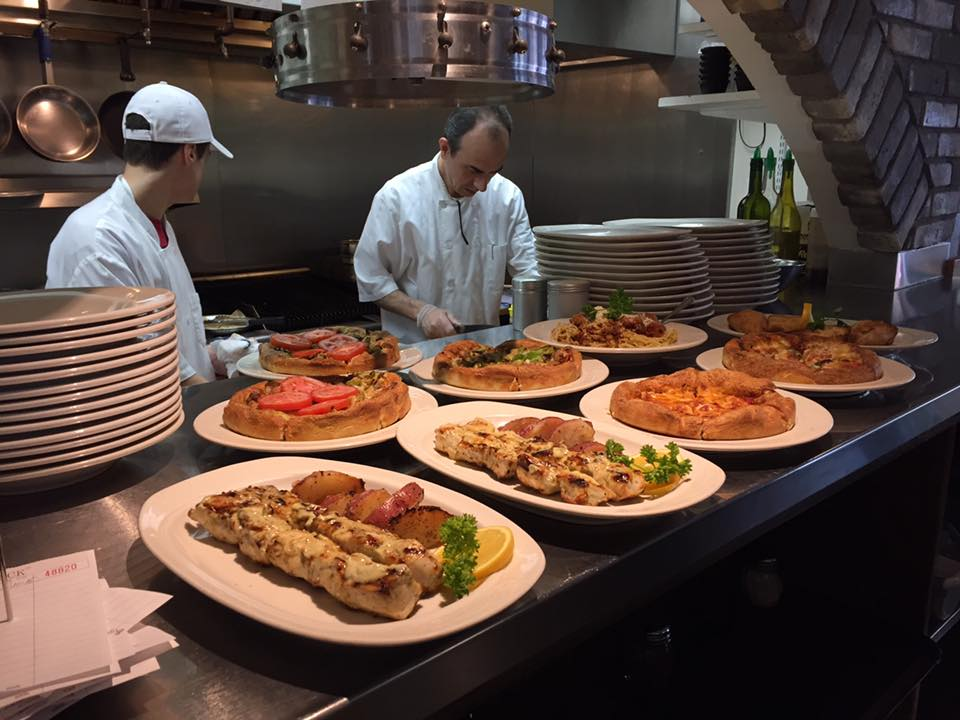 "[Kostas] was not just a place of exceptional food; it was the place where connections were forged, friendships were nurtured, and memories were created," Maria commented in a Facebook post. "You built a loyal community around your establishment, and I am grateful to have been a part of that."
Maria and Kosta have been Mukilteo residents for the past 22 years and running Kostas for the last 27 years. Kosta recounted his fondest memory at Kostas as "interacting with our customers as well as our employees!"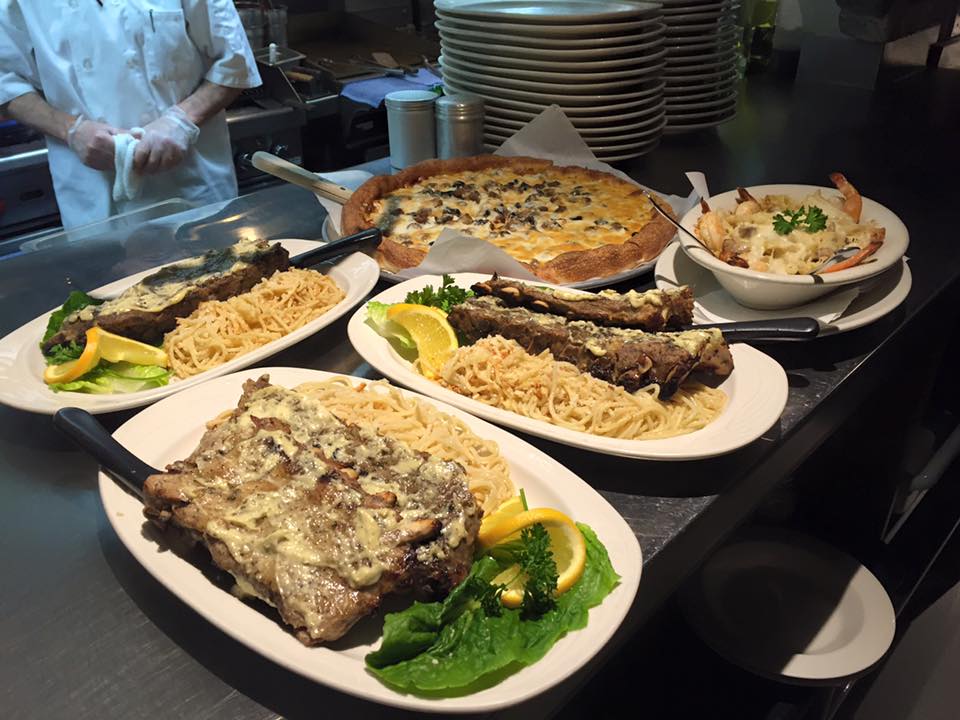 Though many have expressed their love for a certain dish in Kostas menu, such as its garlic bread or Avgolemono soup, Kostas is unable to single out a favorite
"I enjoyed cooking every dish I prepared! I also enjoyed eating every dish that we prepared! I can't name just one because I liked them all!" Kosta told the Lynnwood Times.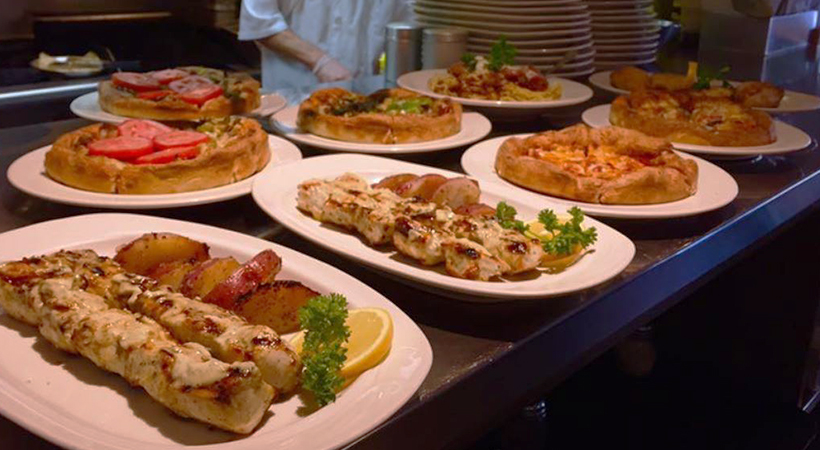 William, a server at the Kostas described the ambience of the restaurant as warm and nurturing. A place where conversations and community could thrive.
"There was a real sense of community between us staff, too. Our team wasn't big and we've had the same people at Kosta's for the past year, which has brought us close together," he said. "I loved seeing and serving so many familiar faces at Kostas each week. […] At Kosta's, I didn't just serve customers – I got to hear their stories and share some of my own."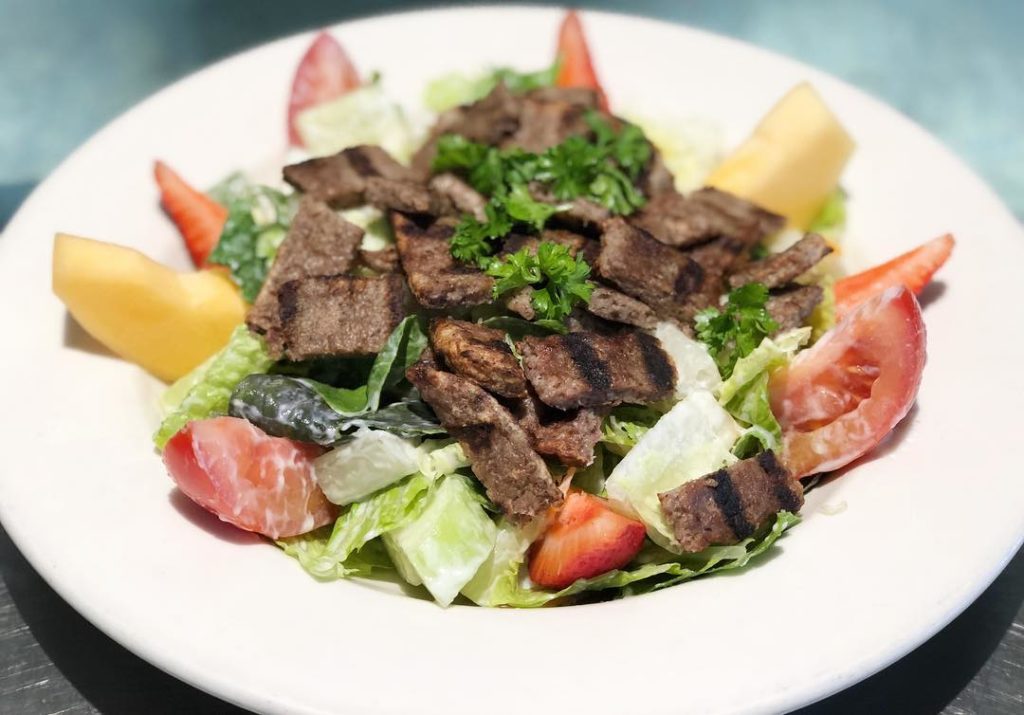 Many others have shared their gratitude for Kostas for the impacts it's had on their lives, with Anna stating on Facebook:
"The employment opportunity Kosta and Maria gave me when I was only 17 years old led the path to where I am today. I owe my knowledge of the business, work ethic, and communication skills all to them and I will forever be grateful for the amount of compassion, love, and care they have shown me."
Kosta and Maria encourage everyone to support Cole's Tavern, a new business set to launch in the space this Fall, which is owned by Cole and Britana Uppinghouse.
"We are very grateful for the opportunity from Kostas Mediterranean Cuisine to share what we love with the Mukilteo community," they shared in a public statement. "Kosta & Maria have been a legacy, and we look forward to continuing the same legacy of care and pride. Thank you!"