DelBene presents $750,000 check for Food and Farming Center at Evergreen State Fair's Grand Opening
MONROE, Wash., August 24, 2023—To commemorate the grand opening of the 114th year of the Evergreen State Fair, Congresswoman Suzan DelBene (WA-01) presented Snohomish County with a $750,000 check for its Food and Farming Center — a crucial resource hub for fruit and vegetables across Snohomish, Whatcom, Skagit, and King counties.
DelBene secured the investment in the Fiscal Year 2023 government funding law.
The Snohomish County Food and Farming Center will hold an indoor market, processing and distribution facility, and a commercial kitchen that will sell and promote local agricultural goods. It will also offer educational programs, health-awareness campaigns, food bank contributions, and community kitchen access.
The Center will be located at McCollum Park in Everett. The county will build and provide the space for a yet-to-be-determined organization to lease and operate the facility.
"Supporting our local farmers and ensuring our residents can access fresh, local produce are vital priorities for our community's well-being and the strength of our agricultural economy. The Food and Farming Center will serve as a crucial resource hub for our fruit and vegetable farmers, while also fostering a more resilient and interconnected food system," said DelBene. "This investment will promote sustainable agriculture, drive economic growth, and enhance the overall health of our region."
DelBene secured $19.4 million for 15 community projects across Washington's 1st Congressional District in the FY23 federal funding package. Projects came directly from non-profit, city, county, Tribal, and state entities, and all funding secured was done in collaboration with project sponsors.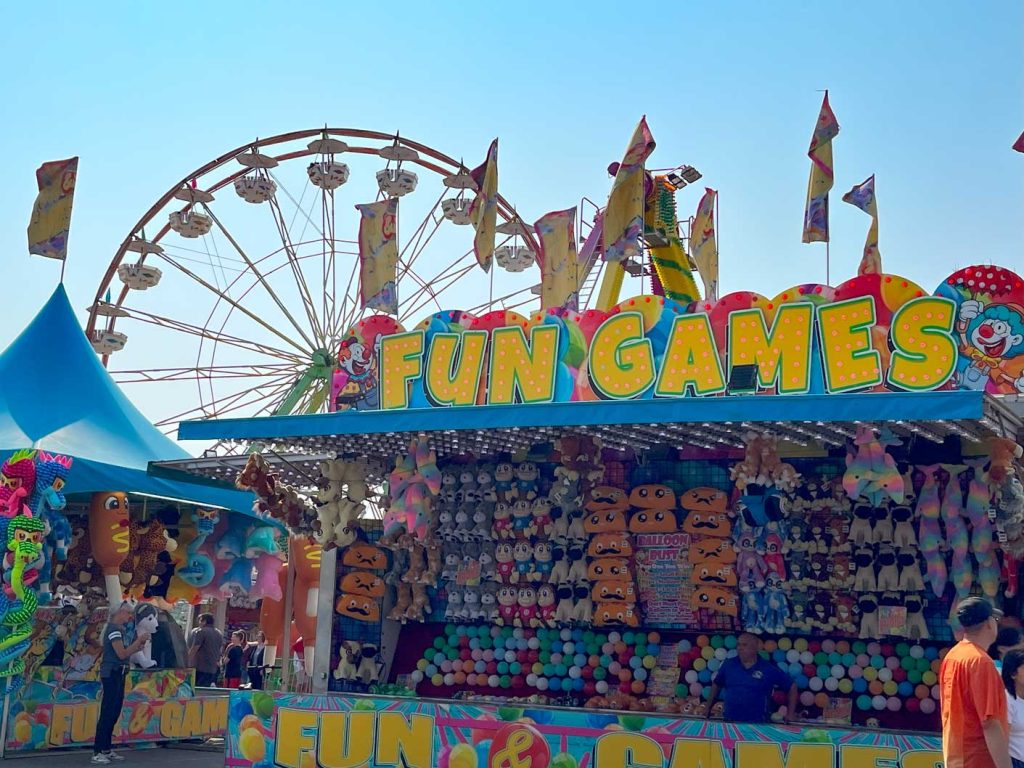 Before DelBene presented the check Mike Ohlson, Fair Manager at the Evergreen State Fair, commenced the fair's opening day by sharing that 114 years ago his great grandfather visited the first ever Evergreen State Fair. Ohlson was appointed to Fair Manager on July 26, 2023, and has worked every year's fair since 1984. 33 years ago, he and his wife were even married on the fairgrounds.
Snohomish County Executive Dave Somers followed Ohlson on stage to thank the many people that made possible another successful year of the Evergreen State Fair – the "real state fair," as far as he concerned.
"This is for everybody, and this is where we come together every year to really celebrate this beautiful place we live in, where we preserve traditions, and where we look forward to a bright, bright, future together," said Somers.
In addition to Congresswoman DelBene, Representative Carolyn Eslick (R-39), Sultan Mayor Russell Wiita, Gold Bar Mayor Steve Yarbrough, Lake Stevens Mayor Brett Gailey, Linda Hjelle, Snohomish County Assessor, and Snohomish County Council members Sam Low, Meghan Dunn, and Jared Mead were also in attendance.
Low shared on stage that his great grandmother first came to Monroe almost 90 years ago and 45 years ago was the first time he attended the Evergreen State Fair. He recalled that it was a rainy and muddy day, but it still meant a lot to him as a young boy and it has continued to mean a lot to him, and his family since.
Marshia Armstrong, Fair Advisory Board Chair, followed Low to introduce and thank the Fair Advisory Board members for all their hard work leading up the fair's opening. Members include Connie Mennie, Judi Smith, Kathleen Wright, Vice Chair Bill Johnson, Secretary J. Elaine Johannsen, Drew Andrew, Tod Johnson, Eldon Bartelheimer, and Candace Burke.
Armstrong also acknowledged late Board Member Don Ballard, who passed away this year serving the last 14 years as a Fair Advisory Board member.
To conclude the opening ceremony Rick and Gene Lindsey were announced as this year's honorees, for their passion and dedication for fairs and fairgoers. The couple have been involved in the fair since the early 90's, beginning by supporting their two daughters in 4H club before founding their own club, Blue Chip. Their involvement grew as they took on the positions of Program Leaders and, eventually Fair Superintendents.
In line with this year's theme "little moments, big memories", Rick Lindsey took the stage to share one of his earliest memories of attending the Evergreen State Fair when he overheard a young girl say, "I just heard a cow…and I think it's real." It's these types of experiences and memories, Lindsey continued, that make the fair so impressionable and unforgettable for so many.
"Thirty-three years or so years ago we walked into these fairgrounds for the first time. We had two girls, and they were totally amazed by this place. We walked into the rabbit barn and didn't like how their poster was judged and the barn leader told us 'Well if you don't like how it's judged judge it next year.' Well we did and we've been judging it ever since," said Rick Lindsey.
The Evergreen State Fair runs from August 24 until September 4, featuring fair food, live entertainment, shopping and vendors, contests and competitions, carnival games and rides, animal exhibits, and more.
The fairgrounds are located at 14405 179th Avenue Southeast in Monroe. The fairgrounds offers 193 acres of space for year-round events, an equestrian center, the Evergreen Speedway and RV sites on the grounds. The Evergreen State Fair Park is a proud resource to the county's agriculture and local communities to support education and youth development.
For tickets, hours, and a schedule of events, visit https://www.evergreenfair.org/.