Lynnwood Mayor Frizzell talks recovery, public safety, and equity during State of the City address
LYNNWOOD, Wash., June 29, 2022 — Mayor Christine Frizzell delivered her first State of the City address on Tuesday via online video. Her major talking points included Covid recovery, public safety, city projects, and equity. Throughout her remarks, she reiterated that Lynnwood is a welcoming place for everyone and even invited residents to share their input on how they envision the City's future.
Mayor Frizzell began by conveying her passion for the City and explaining why she opted to deliver her remarks in a virtual setting. "[W]ith Covid case rates still unsettled in our county, I don't want anyone to have to make a decision on attending an event that could potentially jeopardize their health," she said.
Continuing on the Covid subject, Mayor Frizzell expressed her gratitude for the city staff who kept things running during the last two years and the technology that has increased access to services and enabled leaders and residents to stay connected. After acknowledging how Covid has been the main focus in the past, Mayor Frizzell turned her comments to the future. "Now is the time to focus our attention on recovery and resiliency," she said.
Addressing the issue of public safety, Mayor Frizzell noted the City's recent increase in crime and the emboldened criminal element—making some crimes even more distressing. She also dived into the staffing challenges facing the Lynnwood City Police Department.
The mayor assured viewers that public safety has always been a top priority in Lynnwood and remains a priority now. In fact, just recently, Mayor Frizzell joined several other Snohomish County mayors in penning a letter imploring community members to do their part to secure public safety.
"It is important that, as a community, we remain vigilant and help to make it known that criminal activity is not welcome here," she said. "We will continue to monitor and respond to changing conditions in our community and we will remain committed to making Lynnwood a safe community for all people."
After mentioning how cranes have dotted the City's skyline, shel highlighted Lynnwood's growth. "Most growth is intentionally concentrated in our City Center and Alderwood Mall area," she noted.
Another testament to the City's development is the construction of Lynnwood's new light rail station. "Sound Transit is a crucial piece of our City Center plan and multimodal connectivity," Mayor Frizzell said, adding how seriously she takes her responsibility as a member of Sound Transit and Community Transit's Board of Directors.
In tandem with the light rail station, a groundbreaking ceremony for the construction of Community Transit's new Swift Orange Bus Line in Lynnwood just took place in April, which Mayor Frizzell attended. The light rail station and bus line are both expected to be operational in 2024.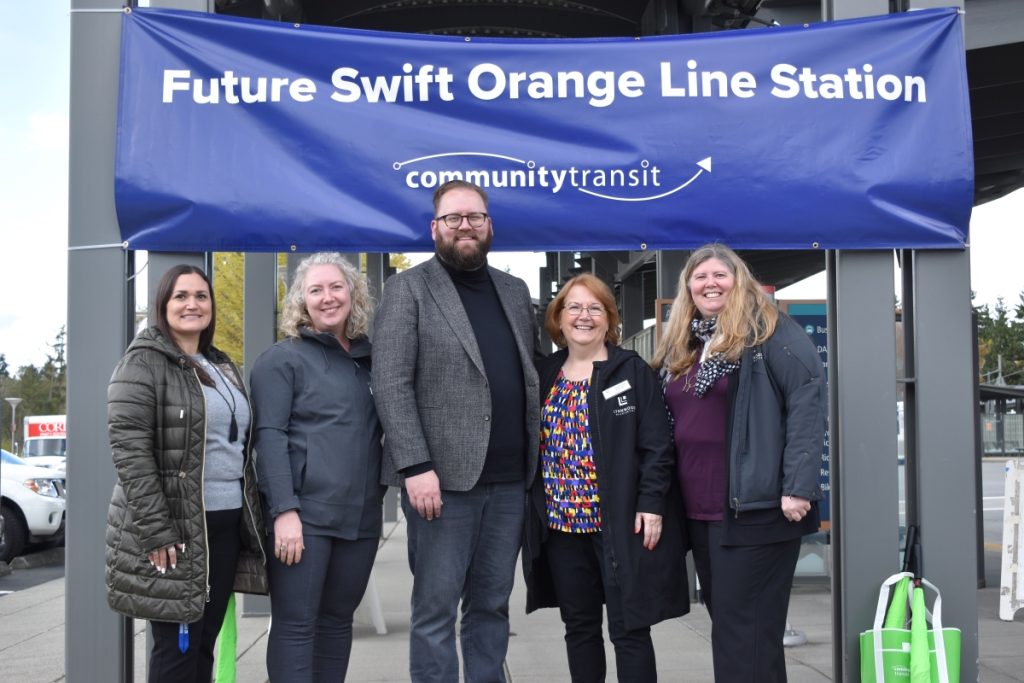 Mayor Frizzell listed other projects currently in development, such as the major redevelopment of 196th street, which she stated is halfway complete. "Thank you, thank you, thank you, for your patience during construction," she said of the 196th project, "we know that it's been inconvenient, but these improvements are very necessary."
Other projects she highlighted were the Sribber Creek Trail redevelopment, which is expected to be complete in time for the light rail link extension, and the construction of the Community Justice Center and the Community Recovery Center. Both centers are anticipated to be complete in late 2023. Concluding her remarks on city projects, Mayor Frizzell encouraged residents to check out all of the City's projects, programs, and initiatives by visiting lynnwoodwa.gov (or clicking here).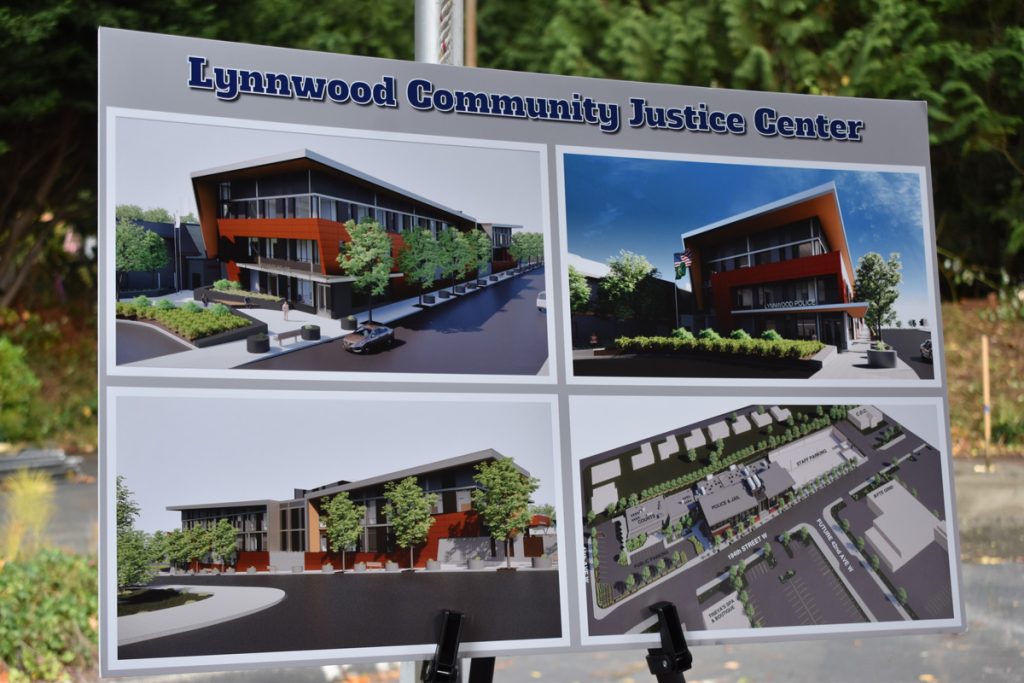 Lynnwood's private development has been increasing at a rapid pace, too. According to Frizzell, "Since 2015, Lynnwood has seen over $1 billion in private investment." Also, in compliance with the State's Growth Management Act, Lynnwood is constructing a legion of new apartments. "Currently, we have nearly 3700 units either in the permitting process or under construction," she said.
Later in her remarks, Mayor Frizzell circled back to roads. "When we ask our community what Lynnwood needs to improve, the overwhelming response is 'our roads!'" After reiterating how several improvement projects are underway in the City, Frizzell assured residents that small neighborhood streets have not been forgotten.
"Our public works crews are busy keeping up maintenance of our more than 300 lane-miles of roads," said Frizzell. "This crew works on crack sealings, pothole repairs, and other road maintenance so we can extend the life of our streets and sidewalks."
The City also has a 5-year Pavement Management Plan funded by the Transportation Benefit District's tax revenue, and the City Council even recently allocated American Rescue Plan Act funds to address road maintenance needs.
Funding for all of these projects and more, according to Frizzell, is secured largely through partnerships and collaborations. "It is imperative that we work collaboratively with our community partners, with our neighboring jurisdictions, and especially with our federal and state legislative representatives."
The City's close relationship with the State's representatives is evident in the $12 million awarded for the construction of the Community Recovery Center from the State's capital budget, the $10 million for the Poplar Way Bridge extension from the Move Ahead Washington Transportation package, and the final $1 million needed to complete phase two of the Scribber Creek Trail project mentioned earlier, which was secured by Rep. Rick Larsen as part of the 2022 bipartisan spending package.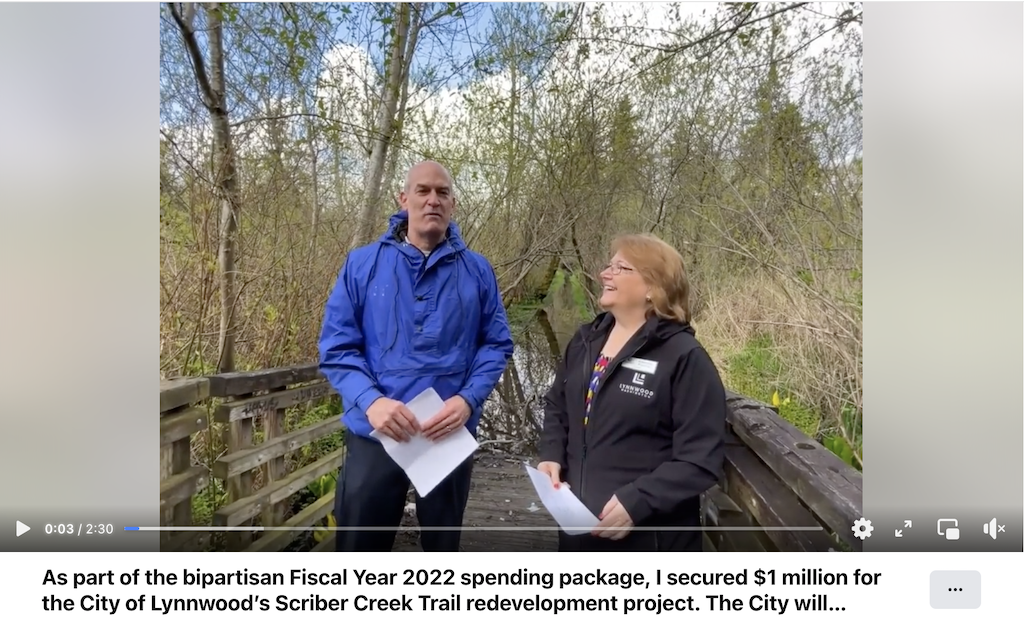 Mayor Frizzell publicly thanked Senators Maria Cantwell and Patty Murray, Congressman Rick Larsen, Washington State Senators Jesse Salomon, Marko Liias, and Representatives Lauren Davis, Cindy Ryu, Strom Peterson, and Lilian Ortiz-Self for their recognition of Lynnwood's priorities.
Speaking of finances, Frizzell shared how the City was able to fully restore its reserves after the pandemic and is currently working on its 2024 Comprehensive Plan. Similar to how Lynnwood's Development and Business Services Department (DBS) encouraged residents to share their ideas for the City's future during 'Big Ideas Month,' Mayor Frizzell said, "The City Council and I invite you to provide your thoughts and input to help us identify our highest priorities for the upcoming years," and announced that a public hearing will be held in September to receive community input on budget priorities.
Mayor Frizzell also spoke about the City's increased focus on equity and removing barriers that prevent community members from receiving city services. A part of this emphasis on equity has been hiring Lynnwood's first Race and Social Justice Coordinator, who is working to help "move our city forward" to create "more equitable and inclusive policies, programs, and services."
"In Lynnwood, we believe that all are welcome, and we believe that all belong," Frizzell continued. "Over the past several decades, the demographics of Lynnwood have greatly diversified. Our 2020 Census data shows that Lynnwood is one of the most racially and ethnically diverse cities in Snohomish County."
For Mayor Frizzell, this exceptional diversity places an added importance on inclusive engagement in the City. After describing the city staff's efforts to actively reach all members of the community so that everyone's voices can be heard, she said, "We still have lots of work to do, but we are making great efforts towards making more room at the table."
In closing, Frizzell thanked city staff again for their tremendous work, expressed her excitement for the upcoming community events this summer, and said, "We want to make Lynnwood more lovable, more livable, more safe, more welcoming, and to do this, we need your help. We are asking that you join us. Get informed about what's going on. Join us at community events and public meetings—both virtually and in person. Give us your feedback, your thoughts and ideas. It's going to take all of us working together to imagine an even better Lynnwood."