Two teens dead in second drive-by shooting in Lynnwood
LYNNWOOD, Wash., July 15, 2022 – Shortly after 9:15 p.m. on Thursday, July 14, two juvenile males, 15 and 16 years-old, were shot during a drive-by shooting at Spruce Park, just blocks from an earlier gang-related shooting approximately 2 p.m. the previous day.
Lynnwood Police have confirmed that both victims have died from their injuries. At this time, police are unable to confirm if the shootings are related and Lynnwood Police are searching for a suspect.
Spruce Park is located on 36th Avenue West near 164th St, just 1600 feet of yesterday's gang related drive-by shooting. According to the Sheriff's Office, the vehicle involved in Wednesday's shooting was located in Bothell and has been impounded but no names of suspects have been released.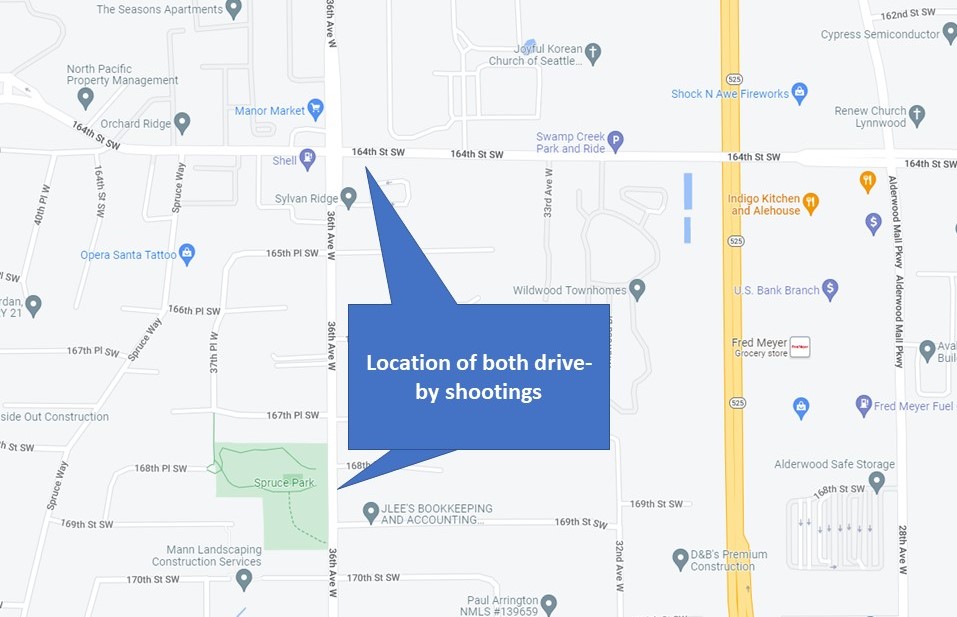 Both shootings involve separate law enforcement agencies. Last nights shooting was within the Lynnwood city limits, so the Lynnwood Police is investigating the case, whereas Wednesday's shooting is being investigated by the Snohomish County Sherriff's Office.
Anyone with information related to Thursday's incident is encouraged to contact Detective Russ Sattarov at rsattarov@LynnwoodWA.gov or call 425-670-5633.
Below is a statement from Lynnwood Mayor on shootings
Social Media Posts
#LATEST on @fox13seattle this AM… 2 teen boys are shot in a drive-by at Spruce Park in Lynnwood. Police say they have life-threatening injuries. This comes just after 2 teens were shot in Lynnwood on Wed. in gang-related shooting. Police haven't connected the incidents. #fox13 pic.twitter.com/Vz0ktMNuUU

— Dan Griffin FOX 13 (@DG_Reports) July 15, 2022