Youth Violence: Let's Talk about Safety event on September 27
LYNNWOOD, Wash., September 23, 2023—The community is invited to join local experts, youth, and family members in an open dialogue to discuss the recent acts of youth violence in the South County area. The event will take place on Wednesday, September 27, from 6 p.m. – 7:30 p.m. at Sno-Isle Lynnwood Library located at 19200 44th Avenue W, Lynnwood. 
Also, experts in the field will be available for discussion, giving youth and parents resources on how to move forward after recent acts of violence. Youth and families are highly encouraged to attend to share their concerns and ask questions during this town hall event.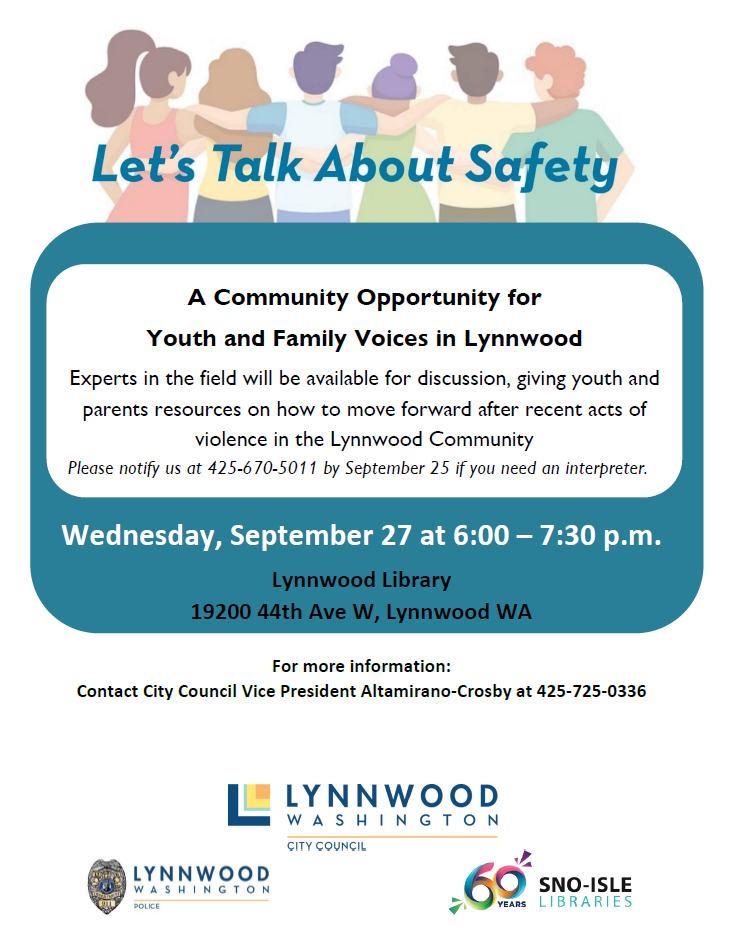 The event is organized by Lynnwood City Council Vice President Julieta Altamirano-Crosby in co-operation with the Lynnwood Police Department, Trinity Lutheran Church and Sno-Isle Library.
For more information about Wednesday's event, contact Council Vice President Altamirano-Crosby by email at jcrosby@lynnwoodwa.gov or call 206-850-2329.
Youth Violence: Shootings plaguing South County
Kamiak High School student Bryan Tamya is the latest fatality in a wave of shootings involving youth throughout South Snohomish County. Less than four days earlier on September 5, five individuals, ages 17 to 20, were involved in a shooting at Lynndale Park in Lynnwood that injured two and killed one.
A 31-year-old Marysville man was booked on Thursday, August 10, for the shooting death of a woman that took place at the 16300 block of 48th Place W in unincorporated Edmonds.
Just weeks earlier on July 27, an early morning drive-by shooting in West Lynnwood near 159th Street Southwest sent three teens to the hospital.
On July 7, another shooting incident took place just a mile away outside a 7-Eleven on 148th Street Southwest in unincorporated Lynnwood, that left one man injured. The 7-Eleven is located just 500 feet from the Chevron Gas Station where store clerk Tejpal Singh, 60, was shot and killed in 2021.
On April 23 a drive by shooting in Edmonds sent a 13-year-old boy to the hospital on the 20800 block of 76th Avenue West. The suspect was a passenger in a white truck that fled northbound after the shooting. The suspect's gunfire also struck buildings from a nearby complex, but fortunately, there were no other injuries.
A year earlier in July of 2022, a drive-by shooting at Spruce Neighborhood Park left two teens dead and a day earlier another drive-by shooting left another two teens with nonlife threatening gunshot wounds a few blocks away. And in May of the same year, a 14-year-old juvenile was shot while walking with a group of friends near 186th PL SW and Highway 99 in Lynnwood.