Serial killer suspect identified in Marysville and Edmonds shootings
MARYSVILLE, Wash., August 11, 2023—According to the Snohomish County Jail Roster, a Gilbert Alexander Escamilla, a 31-year-old Marysville man, was booked on Thursday on three counts of Murder (Murder 1 and two counts of Murder 2), two counts of Unlawful Possession of a Firearm in the 1st Degree, theft of a motor vehicle, Assault in the 1st Degree, Burglary in the 1st Degree, and Eluding Police.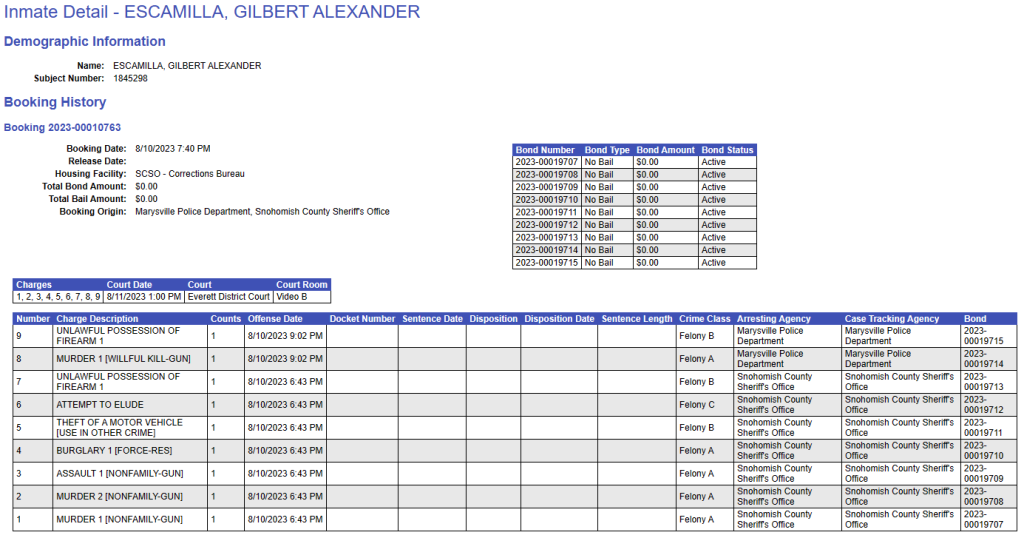 Escamilla had his court appearance on Thursday and bail was set at $5 million. If convicted, Escamilla could face up to life in prison.

Snohomish County Sheriff's Office and Marysville Police detectives are investigating a series of murders that occurred early morning Thursday, August 10.
Anyone with information about either incident is asked to call the Marysville Police Department at 360-363-8300 or the call the Sheriff's Office tip line at 425-388-3845.
Marysville Police Department officers responded to a distress call, regarding a reported shooting, at approximately 4 a.m. Thursday morning at the 2600 block of 164th St. NE in Marysville. Upon arrival, officers discovered a 31-year-old male victim with gunshot wounds. Despite immediate medical attention, the victim was pronounced dead at the scene.
The suspect, Escamilla, is also believed to be involved in an unincorporated Edmonds homicide of a woman at approximately 7 a.m. on Thursday, August 10. The investigation of the homicide in Edmonds is being led by the Snohomish County Sheriff's Office.
The early morning unincorporated Edmonds shooting took place at the 16300 block of 48th Place W. There a 68-year-old woman was found dead upon the arrival of officers, and two relatives — a 32-year-old woman and the 43-year-old man — were both found with life-threatening gunshot wounds. The two living victims were transported to Harborview Medical Center and remain in critical condition as of Thursday evening.
Two young children were also in the home at the time of the shooting. They were uninjured. They were cared for off-site by law enforcement until Child Protective Services responded to assist with temporary placement for the children.
As of Thursday evening, there are no known connections between the victims and the 31-year-old suspect who entered their home.
After a car pursuit by officers that ended at Norma Beach Road in unincorporated Lynnwood, the suspect fled on foot and was eventually captured after a K-9 and WSP's air unit search.
Authorities have confirmed they suspect the same man is connected to both homicides and that there is no ongoing threat to the community related to this incident. Detectives believe the suspect arrived at the location and gained entry into the home before shooting the three adults inside. The suspect then took a vehicle registered to the home and fled from the scene.
As of now, no further details regarding the incident will be released as this is an active investigation.
---
Editor's Note: Article updated on August 11, 2023 at 7:40 p.m. and then at 7:54 p.m.