Edmonds Shooting Update: Shooter targeted two teens, shot one
EDMONDS, Wash., April 23, 2023—Edmonds Police provided an update to yesterday's drive-by shooting incident that took place at approximately 6:45 p.m. on near 20815 76th Avenue W about 1,000 feet from Edmonds Woodway High School to the south and 800 feet to the north from College Place Middle School. 
A thirteen-year-old Edmonds boy is in stable condition at Harborview Medical Center after being shot yesterday while walking in the 20800 block of 76th Avenue West. A second fourteen-year-old boy from Montlake Terrace escaped injury but was with the victim when the two were shot at.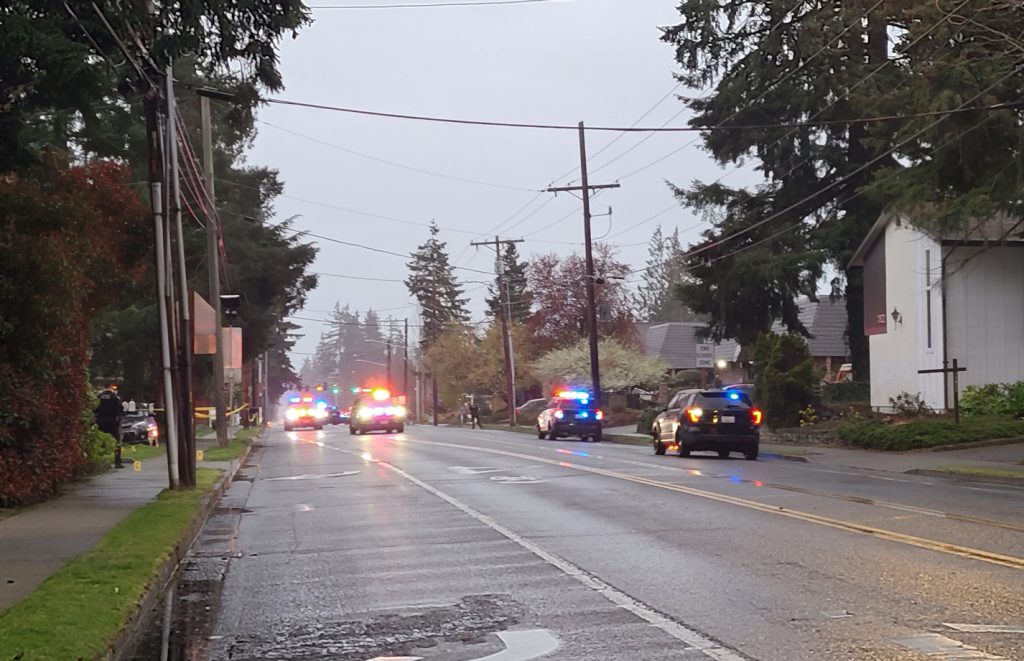 The suspect was a passenger in a white truck that fled northbound after the shooting. The suspect's gunfire also struck buildings from a nearby complex, but fortunately, there were no other injuries. Detectives responded to the scene, but no arrests have been made thus far in the investigation. However, initial information revealed that this was not a random event and that the suspect(s) and victims had some connection.
The incident started just after 6:45 p.m. on April 22. Multiple callers to 911 stated that there had been a drive-by shooting and that one person had been shot. The incident occurred near a border street for Edmonds and Lynnwood, so LPD officers and Fire/Aid arrived first, with Edmonds officers arriving moments later.
Two witnessed interviewed at the scene informed the Lynnwood Times they heard at least five gun shots and originally thought it was a car's exhaust backfire blow out. They then immediately heard several police sirens.
The thirteen-year-old victim had suffered a gunshot wound to the pelvis and was quickly transported to the hospital. The initial investigation and information from witnesses showed that the two victims were walking along the west side of 76th Avenue West. The suspect vehicle was driving northbound when it stopped, and a passenger exited and opened fire toward the victims.
Evidence left at the scene indicates two handguns were likely used in the assault.
The passenger got back into the vehicle, and it fled. The suspect was described as an unknown race male wearing a black hoody sweatshirt, black sweatpants, and a mask.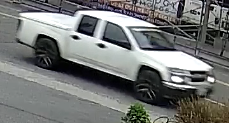 The suspect vehicle (photos included) was described as a 2000-2007 white Chevrolet Colorado 4-door with custom black & silver rims, a hardshell white truck bed cover, and a white decal across the top of the windshield. It has tinted rear windows and possibly front windows.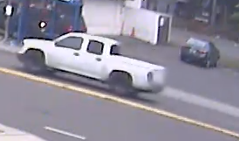 The public is advised not to approach and instead call 911 if they see the vehicle or possible suspect.
Edmonds PD detectives responded and took the lead in the investigation, collecting evidence and interviewing witnesses. If the public believes they have video surveillance that may assist, please call the Edmonds Police Department non-emergency line, 425-407-3999. Anyone with information can also call the non-emergency number or email policetips@edmondswa.gov.
It is unknown if Saturday's shooting involving two male teens is related to the multiple shootings of teens last year July in Lynnwood that left two male teenagers dead.
This is a developing story. Please check back soon for updates.
>>RELATED ARTICLE: 13-YEAR-OLD SHOT IN DRIVE-BY SHOOTING NEAR EDMONDS-WOODWAY HIGH SCHOOL
#UPDATE New information and photos related to yesterday's drive-by shooting, EPD case 23-8211. Do not approach and call 911 if you see this vehicle! Link to release here: https://t.co/OiXyyJwpa6 pic.twitter.com/BhErLY40JE

— Edmonds Police Department (@EdmondsPolice) April 23, 2023